CONTENT in KEY !  An eye-catching website will attract visitors, but Content is what will keep them engaged
Whether you are a retail shop, restaurant, manufacturer, or service organization, the first place potential customers look before considering doing business with you is your website. Not having a website, or a poorly planned and designed website means you're losing out on potential customers. 
However, without clear, informative and well thought out content, visitors and your potential customers will move on.  Equally important is an intuitive path to navigate through through your website to find that content before losing interest.
If your company has been in business for several years, you may already have some form of web presence. If this is the case, ask yourself, is your website is meeting your expectations for delivering new customers and business opportunities?  If you are a new start-up, no worries, we can help you choose and register a domain name, as well as design and create content for your new online presence.
Basic Elements to Include
Attractive Layout with graphics accurately representing your products and services
Company Overview including history, experience, mission statement, testimonials … etc.
Product & Services Content including descriptions, specifications & photos
Intuitive Navigation to efficiently locate content
Contact Information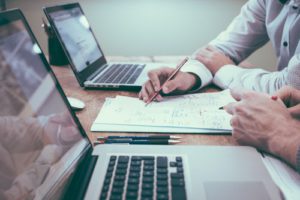 Establishing Objectives, Scope & Expectations
Before you hire someone to build you a website, establish the purpose, goals and objectives and give that list to your web designer. Clearly communicate the scope and  your expectations of the final product. When possible, have a sample layout of a typical page reviewed and signed by both parties. And, most importantly, remember that YOU are a partner in the design and providing content (technical information, product photos, company information…etc) to the web designer, falls on your shoulders.